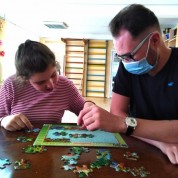 I discovered Rodyna at the beginning of August but I really began my mission at the end of August. I worked in the past with disabled adults but they were independent, they could do their tasks by themselves. So, it was my first time working with disabled children. When I came into the room and saw children, I was stressed. In fact, some children screamed loudly and running around the room. It was a new environment for me. But with time and patience, this atmosphere has become normal. Now they begin to get acquainted with, me so I can help to feed them and be involved in some activities as well…

There is child Ira. I spend a lot of my time to paying attention to her. She is not complicated to manage but she likes to touch computers and to climb everywhere. She has a phone in a pocket not so far from her ears. Music is very important for her cause she has little hysterics when she can't listen to it. I think I founded connection with her cause her behavior has changed compare to the beginning. Now she sits next to me during outside activities, she smiles when I carry her. She can't eat by herself so I try to feed her. I have succeeded one time alone but generally, we need two people cause she moves a lot. When we are outside she likes to follow all the animals (pigeons, dogs, cats…).
Now I think I can begin to anticipate the movements of the children and react before they run away, break somethings, or cause harm to themselves.
These children are very appealing! I love to be here!