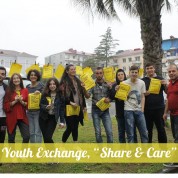 These incredible seven days in Georgia have ended. Somehow suddenly and unexpectedly they passed away in a moment, but time is inexorable as always. These seven days were unique and full of events, ideas, creativity and smiles.
Every day was bright and sunny not because of the weather (the weather wasn't so good actually), but because of the incredible energy of unique people, who were open for communication and creating together, always willing to contribute to the common cause and always ready to help.
During the project we were able to see a wonderful combination of the modern and ancient architecture of Tbilisi, experience the hospitality of a small town Kobuleti (where actually the project took place) and feel serene and free spirit of modern Batumi.
The purpose of the project was promoting a new attitude to consumption and the economy as a whole. Nowadays we spend more and more time and money on things we do not really need. We buy a product, use it quite a bit, throw away and then stand in a line for a new one. Contrary to the idea of consumerism appeared new type –sharing economy, which has become increasingly popular. Barter trade, co-using of cars, bikes, houses, coworking spaces and CouchSurfing, peer lending – all of these are examples of sharing economy.
Within the project we have learned more not only about the theoretical component of the collaborative consumption and its principles, but also learned how to use them in everyday life and implement our new knowledge in projects at the local level.
Every day was built with the use of the principles of effective teaching methods, involving all participants on the maximum level of interactivity. Each of these seven fantastic days was quite interesting and memorable in its own way.
One of the unique points of the project was City Quest, which gives participants possibility to interact with local folks. The participants were divided into teams and had a number of tasks (from conducting of social surveys among residents of Kobuleti to arranging birthday for a local dog), one of which was making photos with Mayor of Kobuleti. Each team showed creativity and found some interesting solutions.
However, one team reacted most faithfully to the task, and applied all diplomatic tact, charm and persistence, went to city hall and made a long-awaited photo with the Mayor of Kobuleti Sulkhan Yevhenydze.
We should also express gratitude to the mayor of Kobuleti (and the team that actually had visited him), who helped to organize an excursion to the mountains.
Participants of the project have a phenomenal opportunity to see fantastic landscapes and nature in its original state (certain forest areas have a persistent association with Jurassic Park), feel the breath of ancient history and architecture.
Participants of this Youth Exchange were also invited to a meeting of local youth government, where they learn about urgent problems of the youth of Kobuleti and solutions to them.
Nothing brings together people that much as cooking together. Fresh fruits, helpful and cheerful youth and ocean of positivity – that's a great recipe for a luxurious and nutritious fruit salad and tasty lemonade.
The seeds that remained after cooking battles were also given to the use, because the purpose of the project was to spread ideas on the need to maximize the effectiveness of resources' usage. So all of the seeds were planted in the garden. We will wait for harvest in the coming years.
One of the topics that are closely intertwined with ideas of sharing economy was upcycling. Upcycling is the way of giving new life to old things. The participants had an opportunity to show their creativity and come up with a new way to use things that seemed to be outlived.
The process of creating ideas was active, energetic and intense. The end result needed to be only one product, so sometimes there were serious inflammatory debates.
But the result was worth it.
In order to maintain the tone and energy between sessions there were conducted various games and energizers. (from hugs race to contemporary dances). Some of the participants still sing a song about a Baby Shark.
One of the goals of the project was to promote the idea of 1010 Ways. The essence of this initiative is to provide opportunities to buy things not for money, but for some kind of social cost. 1010 Ways authors want to make people realize the true value of things and to think about over-consumption and usage of resources for the things that we do not really need. More about this initiative can be found at the link: http: //1010waystobuywithoutmoney.org/about/.
We had the opportunity to talk about the idea of 1010 Ways to children of one of the schools of Kobuleti. In order to increase interest in the topic, it was decided to organize a number of interesting options for leisure activities for children and youth. Several teams were responsible for different blocks of entertainment: dancing and singing lessons, drawing and making origami.
Each of the participants (both children and the participants of the project) received phenomenal and incredible doses of positive impressions.
One of the final tasks within this youth exchange was to prepare a plan for new projects. Participants concerned this task quite responsibly. As a result, we received several potential projects which, as we all hope, would be implemented in the future.
Last Day was joyful and sad at the same time. There was farewell with people who have become true friends, waiting for new meetings in the future, the warmest words, and the most sincere hugs.
The project "Share & Care" will forever remain in the hearts of its participants.