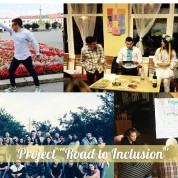 Just returned from international educational project, which this time was held in the Czech Republic (Zlobiche).
The event was dedicated to the topic of social exclusion, adaptation, socialization so it was called "Road to inclusion". Organizers collected participants from several countries for studying and discussion of this problem it was: Ukraine, Czech Republic, Croatia, Turkey, Georgia, Armenia, Poland, Belarus and Romania. We had total 30 people. For me it was the most large-scale project as previous one gathered from 10 to 20 members.
However it didn`t affecte the quality of the organization of the event (in a positive sense).
It was a wonderful experience of international communication with representatives of different countries on different subjects, such as social problems, policy, domestic issues. This project really focused all participants to the question "Just imagine yourself in the place of … Disabled (mental / physical)." And everybody was really thinking about it … We had a week to realize once again that this is really a problem that does not need to be avoided and which need to be solved, by helping each other!
For me it was a moral project whose task was to make people forget thinking about their problems.
Thank you NGO Rodyna for delegating me to the Czech Republic and gave the opportunity to present it and Ukraine, learn a lot, gain valuable and unforgettable experience!
To the new achievements!