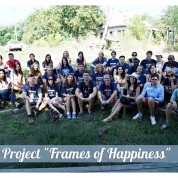 I recently returned from the training course «Frames of Happiness», which took place from 26 August to 4 September in Vadul Lui Voda, Moldova. 2 weeks have already passed but we are still impressed.
All 9 days of training were varied and interesting. The main objective of the project was to talk about the problems of children with the help of videos and photos. The topic was approached by orginizers quite seriously, at first had very intense training with famous Moldovan photographer, and after a trip to the ordinary Moldovan village, where children do not live in the best conditions. And if we, Ukrainians, got used to such situation, the participants from Western Europe were really shocked. Despite this, all volunteers enjoyed playing with the children and giving some gifts to them and they posed to replace the photo and video. As a result we have 6 touching videos about the problems of child abandonment, about their hopes and dreams. All videos can be watched here – https://www.youtube.com/channel/UCMuo44vUDZQ8NRZfWdQM..
The training was attended by volunteers from 8 countries, so every night we had was a special cultural ones. We danced Norwegian and Armenian dances, gulped pita bread, drank Spanish Sangria, all were treated with dumplings and forced to sing "Ty zh mene pіdmanula." We had so much impressions !
I never would probably not visited Moldova, if didn`t participate in this project. But now we know why in Chisinau we can not cross the road even on a green light, what is Dupa and how to eat mamaliga in correct way!
Thank you "Rodyna" for the opportunity and support, thanks to the organizers Vergiliu Grosu and Alexander Post for the excellent facilities and interesting program!