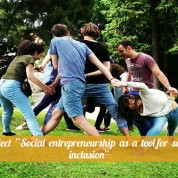 I hasten to share with you the impressions from participation in TC «Social entrepreneurship as a tool for social inclusion», which took place in 40 km from the capital of Croatia – Zagreb. That was incredible! First of all, it was a pleasure for the Ukrainian team to meet with participants from Italy, Spain, Romania, Moldova, Poland, Armenia, Georgia, Slovakia, and, of course, Croatia. As soon as I saw these guys, I realized – time to turn off the Wi-fi and catch the opportunity of dialogue and inter-ethnic cultural exchange.
In addition to fascinating conversations and discussions, presentations of our countries during the cultural evening, during the week we were able to learn more about the opportunities offered by the  Erasmus + program, examined the theoretical basis for the development and functioning of the social enterprise, visited the company "Humana Nova", which operates in this topic, and even suggested the idea of ​​such a project and thenwe was working on our business plans for the further implementation in our countries.
I`m very thankful to NGO «Rodyna» for such a great chance to visit a new country for me, to broaden the horizons and share my experiences with other participants of the project! As well as all our Ukrainian team, you guys are really «dream-team»! So now it`s time to act using all the experience and wealth of knowledge on this topic, developing and strengthening the foundations of social entrepreneurship in Ukraine! Review by Maryna Mats.