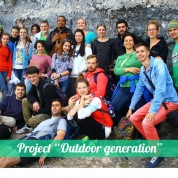 This summer I was fortunate to become a member of cool training «Outdoor generation», that has the unforgettable held in Armenia July 10-18. I am very grateful to the organizers of this project, and Erasmus + Programme which funded the event.
Training that took place in the"outdoor"  formatwere incredibly helpful to everybody, and partial absence of civilization induced plunge into the project, communicate and share experiences. Those relations, contacts and meetings become a good foundation for the development of novices and a good experience for the advanced members of our multinational team.
It was my first experience of international projectsand it impressed me a lot. Normally I behaveskeptically to training and not give them much hope. However, our coaches Helen and George fulfilled a tremendous piece of work and made a very interesting program. Custom tasks knocked us out of the comfort A reduction and forced to think in unusual directions. Especially high quality, in my opinion, made the task of teambuilding. I do not even remember how many hours we said goodbye to each other …
One of our goals was – move away from standard achievements of civilization and become closer to nature. I do not know whether it was possible for it to choose a better country than Armenia. Its climate and unsurpassed nature really forced not to think about everyday things and just enjoy those views we saw every morning, based on their tents. By the way, is also a great idea – to live in tents; This allowed us to be closer to nature and spend more time with each other, no tent hotel room – sit in it nothing 🙂
Remain forever in the memory of night hikes, raising mountains, national cultural evenings, active play, creative solutions, the best birthday of my life and hospitable Armenians who did all their best for us to enjoy the prosess.
In my opinion, every participant of this project brought something useful for himself. Someone finally has started the work on a project that hung somewhere in thought, somebody is going to find like-minded people and orginize its international program. As for me I also acquired skills, currently bringing it to my professional activities.
Thank you, Rodyna team for excellent opportunities for active citizens.
Review by Natalia.