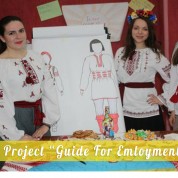 Review of one of the participants of the training, Tatiana: "I recently returned from training" Guide For Emloyment ", which took place from 23-30 May in Bakuriani, Georgia.
I can easily say that it was one of the best week of my life since I gained a valuable experience and new impressions. Such projects allow you to meet different and undoubtedly interesting people from other countries. They have created the atmosphere of warmth and openness, that we felt every day. During the cultural evening where each country presented itself, we learned as historical and contemporary facts, tasting traditional dishes and drinks.
Every day we learned something new, how to work as a team, listen to lectures, presentations on how to write a resume, cover letter, how to put SMART goal in our lifes. We were able to improve their ability to present themselves, because we had his own "moment of glory" that, within one minute of each participant made a report to the public.
Unforgettable impressions left a visit to a school in Bacuriani where we conducted classes for children, because they are as open and sincere that I wanted to help them and just spend time with them.
We not only learned about Erasmus +, but also learned how to write our own projects, so I am convinced that one day we will make all our plans come true.
I am very grateful NGO «Rodyna», which was given the opportunity to attend such an interesting and useful project where you acquire new knowledge, new friends and practicing your level of English, which is equally important. "