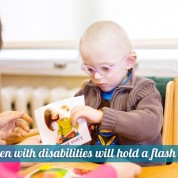 NGO "Family" with hypermarket "Auchan Kiltseva" and the National Choir "Dnepr" of National University of Taras Shevchenko in Kyiv organized a grand flash mob for Children's Day.
Our permanent partner hypermarket "Auchan Kiltseva " on the occasion of Children's Day holds a unique art event "Hear Me!", which will include exhibition "I will tell you … Mom!" – which demonstrate nonverbal children NGO "Family" with severe disabilities who are studying alternative ways of communication – through cards "PEX". You will see real emotions of the child, who was understood and heard the first time in his life.
The photo exhibit will be held in June.
Location: hypermarket "Auchan Kiltseva " Velika Kiltseva str. 4, trading room
.
Opening stocks: June 1, 2015
Accreditation for media is required.
The grand flash mob – in the trading floor of hypermarket "Ashan Kiltseva " disabled children and their parents, and staff of "Ashan Kiltseva " will perform dance and sing inflammatory song accompanied by live folk choir singing. The event will take place in front of all visitors of the hypermarket.
The initial number of participants – 200 people.
Flash mob will start at 19:00 by Kyiv time.
We invite everybody to participate!
For participation and accreditation contact the project coordinator:
Constance Boris
Tel.: 0672185036.