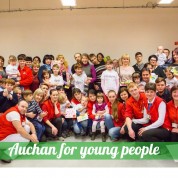 NGO "Rodyna" from Kyiv has received support from the Foundation "Auchan youth" in the project alternative communication "I`ve understood" for children with complex disabilities in the development and for those who don`t speak!
One of the most important human needs – is communication. Imagine that we have closed our mouth and we have no way of verbal express our needs or bring our mind. In this situation, we will seek our actions to draw attention to ourselves and others near us, most likely, it will be some destructive behavior or movements. Persons who live this way from childhood and have no other way to express in our country, unfortunately, are considered "moron" … No one asks why and how you can make a difference in what way to offer an alternative. Children with severe disturbances in their development and can`t speak, doomed to unanimous opinion of doctors – "it`s a plant "and let it live in a closed special care institutions." These children are "unpromising" in our country.
But we, the parents from NGO "Rodyna" who raise these children don`t thing like this. We have the opposite opinion! Our children are wonderful and they have the right to live in society, have the right to study and learn alternative ways of communicating and interacting with the world! Unfortunately, we can`t wait another ten years for changes in the approach to the rehabilitation of children in Ukraine. So we teach them by ourselves.
Fund "Auchan Youth" supported our desire to give these children a chance to communicate and be adapted to the society and environment with maximum level of comfort. Children can learn how to speak on special plates which have necessary software for their comfortable existence outdoor and in the social field. We will show by our own example for the doctors and other parents that to give kids a chance – means to change the quality of life and eliminate doom!
If you are faced with similar problems, be sure, you are not alone! At the store "Auchan" which is on the st. Velika Okrujna 4, Kyiv, we have created a number of social events that create positive change at this stage of life of children and their parents. Parents learn how to go out into the world with the child, without regard to the views of humiliating others. Children adapt to society and to the various activities.
For example, these children and their parents are shopping, bake cookies, paint pictures, make surprises with volunteers from the store. All these little events lay in the minds of children to a positive experience and fight against the fears of the unknown. And now when we are going to "Auchan" the whole crowd of children expects only the best there.
We thank the Foundation "Auchan youth" conscious of their social and corporate responsibility. Because the organization supports presents and believes in an opportunity to improve the quality of life for our children. Thank you!
We invite all concerned people and companies to join the social development of further measures to create new opportunities and destroy harmful stereotypes of our society. Let's spread the idea and be kind to the world!
Each partial to this problem sincerely invited to be a volunteer.
To contact
Alexander Posivnych,
tel: 0984254618. 0502849141.
email: posivnich@mail.ru
profile in FB: Aleksandra Posivnich