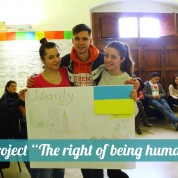 A project «The right of being human»  was attended by youth workers from Portugal, Great Britain, Georgia, Armenia, Ukraine, Belarus, Austria, Italy, France and Moldova from 27 February to 8 March 2015 in the beautiful town of Nardo, Italy,
In the theoretical part of the project we reviewed and discussed all the categories of human rights, the real situation of human rights in each of the participating countries. The emphasis was placed on the rights that people neglected and which really honored. We also visited the public organization «Rinascita», which was the organizer of the project, met with three interesting people, refugees from Palestine, Iraq, Sinegal. They were talking about the hard life in their country, why did they leave it and  started a new life in Copertino, Italy. Their stories absolutely amazed all of the participants; extremely difficult to understand all the pain of these people.
In the practical part of the training, we had an excellent opportunity to get acquainted with the basics of photo and video art. For many of us this process proved to be quite complex and required more dedication, we had to work late into the night to create a video . On the last day, the participants organized a flash mob in the main square of Lecce, the idea was to draw public attention to human rights, to comply with them and struggle.